Motorcycles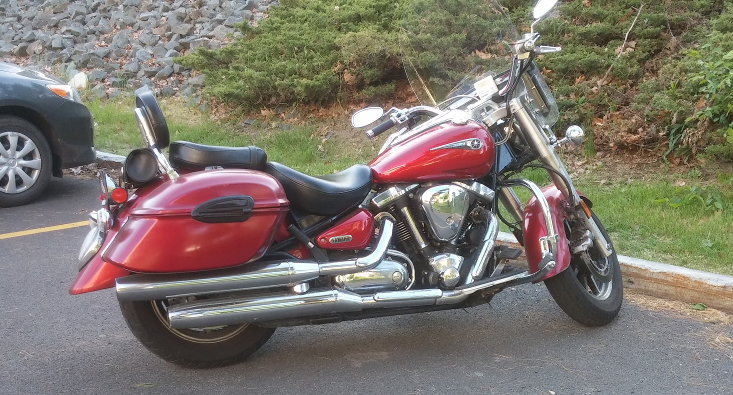 Yes, there're've been a couple of them lying around, too:
In the market for . . .
A Cafe Racer. The Road Star is a nice bike, but it is painful to ride it around town, in parking lots, stop signs and red lights.
Sold!
Thanks to Craig's List the small bike is gone.
The Stable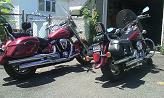 ---
[download higher resolution image]
In case you can't tell, both of these are from Star Motorcycles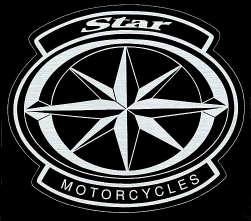 which is Yamaha's brand for cruiser bikes.
They're a Road Star and a [now departed: 4/2014] V Star Classic, both the "Silverado" edition (bags/windshield/passenger back rest): cool bikes.
---
Last Days
As in last day of riding for the season. Not a complete list, but here goes, for the winters of . . .
Starting in 2016, I have stopped keeping track of this. One ride on a good in the winter, sometimes two. In 2019-2020 the bike went away in October!
2015-2016 February, highs in the 50s, rain to keep the roads clean: still riding.
2014-2015 Snow on the ground, salt on the highway, looks like end of November, end of the season.
2013-2014 Snow started in mid-December: didn't get back on until April 1st.
2012-2013 Still riding as of December 26th: 21° leaving the house for work, and kept going all winter.
2011-2012 No last day — rode at least one whole week during each month all winter!
2010-2011 December 3rd — started snowing on Saturday morning, the 4th.
2009-2010 Last week in December, before winter intersession dive trip.
2008-2009 End of November — not very dedicated this year.
2007-2008 December 31st, last day riding to work, but a couple of January weekend rides.
It's not so much the cold as the snow, salt, and sand on the road. Cold I can deal with, down to about 20° so long as the speed is not too fast, but the road surface can be deadly.
---
Motorcycle Links
Other Manufacturers
Geography is an important part of this world, so here goes, geographically speaking:
U.S.
Custom Builders
Japanese
Chinese
European
---
Helmets
---
Organizations and Instruction
---
---
Events
---
Conversions
Yes, this is important to motor heads: have to know what's what and who ranks where.
CCs to cubic inches:

Multiply CCs by 0.06102374409473229 (.06 is probably close enough for doing in your head)
for example,
500 cc * 6 = 3000 / 100 = 30 ci
(actually 30.5 ci)

Cubic inches to CCs:

Multiply cubic inches by 16.387064 (16.4, more or less)
or, a bit less awkward
Divide by .06 (or divide by 6 and multiply by 100)
for example,
120 ci / 6 = 20 * 100 = 2000 cc
(actually 1966 cc)

check out the every-known-unit volume converter at http://www.csgnetwork.com/metvolume.html