Marathon Training at Selkirk Yard
Ouch!
Under M.D.'s orders (literally, my orthopedist), I'm off running for the foreseeable future: too many herniated disks.
Getting to Selkirk Yard
The Route 32 Bridge overlooking CP-FB and the Top End at Selkirk Yard is a nine and a half mile run from the Center Square/Capitol Hill neighborhood of Albany. This run passes through a variety of neighborhoods, going from inner city to rural farmland. Start in Center Square and head south down Lark Street to Delaware Avenue, then south on Delaware through the southern part of the City of Albany to Delmar in the Town of Bethlehem, through Delmar and out through the farm and industrial areas of Bethlehem to Feura Bush and the Town of New Scotland. This is a delightful 19 mile run out and back.
Albany to Selkirk Yard
From the center of Empire State Plaza via Hamilton Street to Lark Street, Delaware Avenue/Route52/Route 32
1/2 mile: Price Chopper
1 mile: Besch St.
1 1/2 miles: CVS
2 miles: McAlpin St.
2 1/2 miles: Normanskill Bridge (N. end)
3 miles: Lennox St.


> >

water fountain at ice cream stand; water/rest-room at Hess Station or McDonalds
3 1/2 miles: Plymouth St.
4 miles: Rural Pl.


> >

water/rest-room at Stewarts or Mobil gas stations
4 1/2 miles: Delmar Post Office
5 miles: Borthwick
5 1/2 miles: Kensington Ct.


> >

Turn Left at Traffic Light onto County Route 52


> >

water/rest-rooms at Valero gas station or Stewarts on corners
6 miles: Mailbox on north side, #68
6 1/2 miles: State Route 32 (continue straight -- CR52 becomes SR32)
7 miles: End of acceleration lane out of park (on right)
  [water in park is remote -- not good choice]
7 1/2 miles: 1st driveway on right after park
8 miles: barn before power line/Meades Ln.
8 1/2 miles: start of turn lane for Waldemere
9 miles: driveway on left before Corning
9 1/2 miles: Route 32 Bridge, Selkirk Yard
9.6 miles: Stewarts
A D&H Alternative
Delaware Avenue to New Scotland Road
For a 13 or 15 mile loop (and a definite D&H feel), turn right onto Kenwood Avenue (State Route 144), just past the Post Office at 4.5 miles, and proceed west on Kenwood parallel to the D&H Voorheesville Running Track (a.k.a., the Albany Main), returning on New Scotland Road. Distances are as follows:
5 miles: Borthwick St.
5 1/2 miles: Woodbine Blvd.
6 miles: Union Ave.
6 1/4 miles: New Scotland Road, D&H overpass
Return to Albany by making a right turn onto New Scotland Road (6 3/4 miles) or add a 2+ mile loop (and two grade crossings of the D&H) by making a left turn onto New Scotland Road and making the first right onto Upper Font Grove Road, remaining on Upper Font Grove Road back to New Scotland (keep bearing left to recross the D&H).
Albany to the D&H Overpass over New Scotland Road:
from the center of Empire State Plaza via Hamilton Street to Lark Street, Madison Avenue to New Scotland Avenue
This New Scotland/Delaware loop can easilly be run in either direction, so here are the distances from Albany to Kenwood on New Scotland:
1 mile: Albany Medical Center pedestrian overpass
1 1/2 miles: Academy St.
2 miles: St. Theresa Church
2 1/2 miles: Manning Blvd.
3 miles: Ferndale St.


> >

water/rest-room at Stewarts or Mobil gas stations
3 1/2 miles: NYS Thruway overpass
4 miles: between Cory Ave. (3.75) & Woodside Dr. (4.25)
4 1/2 miles: NYS DOCS training center
5 miles: Normans Kill Bridge (S. end)
5 1/2 miles: start of Price Chopper deceleration lane


> >

water at Hess station
6 miles: between Post Office (5.75) & Pine Hollow Rd (6.25)
6 1/2 miles: Mullens Road
6 3/4 miles: Kenwood Avenue
News Flash!
Word around town late August 2008 is that Canadian Pacific is selling the Albany Main from Kenwood to Guilderland Center for a rail-trail.
And indeed that's just what happened.
At Selkirk
The yard itself offers some interesting possibilities for running and train watching. An out-and-back of the yard, starting at the Route 32 bridge, starts with a three mile run to the engine shop under Jericho Bridge (stop at South Albany Airport north of the bridge for water and a rest room), three miles from Jericho Bridge to the drill tracks at Mosher Bridge, and two miles down 9W to CP-SK (stop at the Hess gas station at the corner of 9W or at the Stewarts farther down 9W for water and a rest room). This offers the possibility of a 16 mile back-and-forth with ample water opportunities (carrying a bottle to be refilled along the way), with a variety of shorter combinations for short days.
Approximate distances west (Route 32) to east (CP-SK)
2 miles: Huttig Building Products (formerly Rugby)
3 miles: south side approach of Jericho Bridge
6 miles: material yard, Mosher Bridge
7 miles: 9W intersection
8 miles: Route 9W bridge at CP-SK
Measured distance, east (Route 9W at CP-SK) to west (Route 32)
0.5 miles: Stewarts
1.0 miles: traffic light, Route 396


> >

turn left onto State Route 396 and head west
1.5 miles: mail box numbered 103
-- 1.8 miles: bridge over drill tracks
2.0 miles: The Inbound
2.5 miles: Coymans Creek
3.0 miles: Ten Eyck Avenue


> >

turn right onto County Route 53 and head west
3.5 miles: Rupert Street
4.0 miles: a vary defined hollow in the road (land marks are rare in this area)
4.5 miles: another very defined hollow in the road


> >

turn right with County Route 53 and cross the yard heading north (*)
5.0 miles: Speeder Road entry to yard


> >

turn left onto County Route 55 and head west
6.0 miles: end of acceleration lane on CR 55
6.5 miles: CR auto terminal entry road
7.0 miles: about 100 yards east of the large GE sign
7.5 miles: Power Park driveway
8.2 miles: Route 32
8.4 miles: Stewarts on Route 32, south of the yard
*
This is going to change soon if it has not already: Ben's bridge has been closed to cars for some time now, and word is it will come down completely.
The yard is more-or-less visible (well, honestly, more less than more) for almost half this run.
Just a note -- to go 20 miles in a line (i.e., no round trip), starting at Empire State Plaza, head south to the Stewart's in Feura Bush, then turn around and head east along the yard to CP-SK; then (with 18 miles to CP-SK) head east on the road along CP-SK and continue north and east to the hamlet of Selkirk, joining State Route 396; then turn right (across the Albany Secondary) and head east to State Route 144; finally, head north to a point about 100 yards north of the Thruway interchange, to a waiting car with lots of water.
---
Favorite Places to Train
Locally
When not running to, from, or around either Selkirk Yard or where I work at Empire State Plaza (see State Workers Specials below), Thatcher State Park is a good choice, as it has well maintained paths and nice views from the northwest through northeast; the foot-path through the Albany Municipal Golf Course is also a good choice; and the Port of Rensselaer and the Port of Albany are interesting places.
Otherwise,
Mohonk's Trails in New Paltz, N.Y., are spectacular, and were home to my running for a decade.
In my travels I've run in a few interesting places. Oahu's north shore gives new meaning to a nice run (a bit understated this). For an international taste, along the Rhine between Arnhem and Nijmegen on the Rijndijk was one place I spent a summer and fall training for a marathon: not much in the way of hill training, but a unique view the Dutch countryside (except for when the German smog came up from the Ruhr Valley). And somehow I've managed to avoid getting flattened in the U.K, Ireland, and Australia, all places where "they" drive on the "wrong" side of the road.
---
Applied Marathoning
With Marcus at the Mohawk-Hudson River Marathon, 2004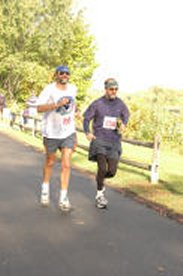 . . . and

Other Distance Running

With Marcus at the Utica Boilermaker, 2004 (15K)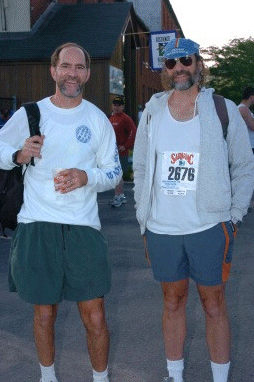 ---
Some Marathon Links
Here are some regional links:
---
Some of my odd notes to myself
---
State Workers' Special
More runs from Empire State Plaza
All distances approximate
Three-mile loop
West on Madison Avenue to Ontario Street
Right turn on Ontario to Western Avenue
East on Western to State Street
East on State Street to the Plaza
South across the Plaza to Madison
Four-mile loop
Begin/End as with Three (above)
At Ontario, continue to "the Point," the reverse Y-intersection with Western
At the point, return to the Plaza via Western
Five mile loops
Flat-five
Begin/End as with Four (above)
At the point, continue west on Western to Manning Blvd.
Right on Manning to the first right, Lancaster Street
Right on Lancaster to Main Avenue
Right on Main to Western
At the point, return to the Plaza via Western
Five-with-a-hill
Begin/End as with Four (above)
The block before the point is Lawrence: turn left here
Continue south on Lawrence through the curve southeastward as it becomes Ryckman Avenue to Main
Right on Main to New Scotland Road
Left on New Scotland past Albany Medical Center
Depending on the hillishness desired, turn right on either Myrtle or Madison

Turning on Madison (no hill to speak of), return to the Plaza
Turning on Myrtle (a bit of a hill), continue to the Museum parking lot, turn left, and return to the Plaza
Five-with-a-real-hill
East on Madison to Broadway
North on Broadway to the I-787 underpass
Under I-787 and cross service road
Left on service road on the Corning Fitness Trail
North on the Fitness Trail to the I-90 overpass
Turn around and reverse to the Plaza
Optionally, continue north on the Fitness Trail as desired
Six-mile loop
Begin/End as with "Five-with-a-hill" above
Continue on Madison as with "Flat-Five" to the point
Continue west on Western beyond the point to Euclid Avenue

Where safe, arrange to be on the south side of Western

Left turn on Euclid
Left turn at Buckingham Blvd. and clockwise (right-circle) around the short end of Buckingham Lake

A right on Buckingham, with a counter-clockwise (left-circle) around the long end of the lake, adds about 1/2 mile

Continue on Buckingham to New Scotland Road
Return to the Plaza via New Scotland
Seven-mile loop
Begin/End as with "Flat-five" above
Continue west on Western beyond Euclid
Right turn on Rosemont Street
Left turn on Hawkins Street
Right turn on Brevator Street
Left turn on Washington Avenue
Cross Manning and Right turn on Manning
Left turn on Lancaster
Return to Plaza via Main/Western
Eight-mile out-and-back
Begin/End as with Seven above
Continue west on Western beyond Rosemont
Opposite Arcadia Avenue (just pass SUNY) turn around and return to the Plaza
Nine-mile out-and-back
Begin/End as with Eight above
Continue west on Western beyond Arcadia
Continue west on Western to the Stuyvesant Plaza entrance-drive
At Stuyvesant, return to the Plaza
Ten-mile out-and-back
South on Swan Street
Right on Morton Avenue
Left on Delaware Avenue
Continue south on Delaware to Brockley Drive (opposite Bethlehem High School)
turn around and return to the Plaza by the reverse routing
Eleven-mile out-and-back
Begin/End as with Eight above
At the SUNY entrance, enter SUNY and begin the perimeter road (University Drive)
Run the "key-hole" (Even Revere Collins Circle), opposite Washington Avenue
At Western, return to the Plaza