Skiing
Ouch!
Under M.D.'s orders (literally, my orthopedist), I'm off running and other high-impact activities for the foreseeable future: too many herniated disks. Cross-country skiing should be O.K. but lift-service, bumps, and big hills are probably iffy.
Page Index
[ Skip Index ]

My Quiver
 . . . 
and what exactly is a "quiver" anyway?
From the American Heritage Dictionary . . . 

1. A portable case for arrows.
2. A case full of arrows.
Egocentric ski morons obviously imagine themselves flying downhill on arrows . . . 
Ahem.
O.K. I admit it: I have more skis than I know what to do with, or that I can remember that I have. But I really only use five: two for cross-country, two for downhill, one for in-between. More on that later, and with that said, here they are for the 2013 – 2014 season:
Notes

| | |
| --- | --- |
| 1 | I forget the model of these Alpina boots, but I bought them a couple of seasons ago at an end-of-year sale at Lapland Lake, replacing a similar pair I had gotten there a few seasons back (now covered in duct tape): just the basic synthetic touring boot, NNN-II, ankle height, PU coated, lace-up. |
| 2 | I have no idea what a "Concord" ski is. I found them at a used ski shop for some rediculously low price, and I'd never had a waxless ski, so why not. These are very slow, but I can walk up dizzyingly steep inclines on them without herring-boning, and it is nice not to have to use klister or red wax! |
| 3 | I found these Toko skis at a church rummage sale in Fairhaven, Vermont. Literally, they caught my eye as I was driving past. A big, heavy touring ski with a laminated wooden edge of sorts. |
| 4 | I bought these Alico boots at a clearance sale at EMS a few years ago: ankle height, all-lather, lace-up. I've added, using a carbiner through the laces, an ankle strap, which made a very noticeable (and critical) difference in performance at lift-service areas. This is also a good light-weight alternative for all of the 75mm bindings, especially for backcountry work, although it's a bit light for use with the Völkls (I have used them on the K2s). |
| 5 | I forget the model of these Rossignol boots. I bought them years ago at Potter Brothers in Kingston: ankle height, all-leather, lace-up. With the Karhu Telemark GTs, a good combination for groomed trails, skiing around local parks, and for easy back-country (but not a good choice for lift-service). |
| 6 | I bought these Alpina boots at a clearance at Campmor a few summers ago: hinged plastic cuff, calf height, leather upper, two buckles & lace-up -- I sold my Scarpa Terminators after I'd skied in these a couple of times. One of the buckles snapped-off, but they still work well enough. |
| 7 | This is the combination releasable binding with a brake. |
| 8 | This is the ski in the 2004 EMS catalog (catalog of sorts; a Zen-ish sort of catalog); going back to the plastic boot makes this one awesome package! |
| 9 | I somehow broke the Voile Classic Cable that I had on these at Jiminy Peak in 2007 (and spent about an hour at the summit ski patrol office hammering them into some kind of usable shape for the trip down - - thanks Jiminy Ski Patrol!), so I finally put on the hardwire that I'd had since 2005. |
| 10 | My only Alpine Skis (ever). |
| 11 | These are alpine skis, a gift from my wife: I may try a Fritchi Freeride, if E-Bay is good to me. |
Plus there are a bunch of other odds-and-ends that I've found at yard sales, mostly older trail skis with 3-pin bindings, some that people were just tossing out.
With all of that, the only skis I really use are the Fishers for XC (sometimes the Rossis if I'm really energetic) and the Super Stinx for lift-service; the Karhu Teles sometimes XC or off-trail, and once in a while the Merlins for a change at the lifts. Sometimes I still use the Powder Plus at the lifts or with kick wax, but only for grins.
Ski Links
By the way, here are a few more links . . .
And here are some links to local and regional ski areas . . .
Cross Country
Lift-Service

Belleayre (Highmount, N.Y.)
West Mountain (Glens Falls, N.Y.)
Whiteface (Wilmington, N.Y.)
Brodie (New Ashford, Mass. [now affiliated with Jiminy Peak])
Jiminy Peak (Hancock, Mass.)
Gore (North Creek, N.Y.)
Mad River Glen (Waitsfield, Vt.)
Mount Snow (West Dover, Vt.)
Stowe (Stowe, Vt.)
Smugglers Notch (Jeffersonville, Vt.)
Sugarbush (Warren, Vt.)
Windham (Windham, N.Y.)
Bolton Valley (Bolton Valley, Vt.)
Killington (Killington, Vt.)
Le Massif (Petite-Rivière-Saint-François, Quebec)
Pico (Rutland, Vt.)
Wildcat (Pinkham Notch, N.H.)
Royal Mountain (Caroga Lake, N.Y.)
(No, that's not random: there is an order to how they are listed.)
My Trip to Mt. Marcy
Note, March 2008:
Holy Cow! Can you believe ten years since I wrote this?
27 March 1998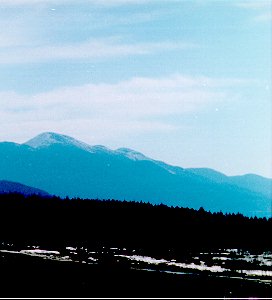 The Adirondack High Peaks
A number of years ago I heard a sermon in church about how people have gone to mountain tops to muse on life. On the other hand, on a warm March day, a mountain top may be the only place to find enough snow to cut a few turns. In any case, although the Chapter had a special steam trip scheduled for the weekend, the call of the mountains was too much to be resisted.
Rail news from the North Country has been upbeat of late: as reported on the ESPA W3 site, New York State's DOT has approved the Adirondack Railway Preservation Society's proposal to restore/operate the ex-New York Central branch from Utica to Lake Placid. (After asking for competing bids, the State decided to approve the proposal by the present operator of tourist trains out of Thendara: this group is already working to restore through service from Thendara to Utica later this year). It is reported that a small locomotive has been trucked to Lake Placid to begin restoration work between there and Saranac Lake, but I didn't see it (that day, but the following October, while in Lake Placid for the PEF Annual Convention, I spotted it at the old Lake Placid train station).
We (two friends along) had intended to ski Mt. Marcy, New York State's highest peak at over 5300 feet, on Saturday the 28th, but forecasts of high temperatures had us move it up a day. So, intent on "earning our turns," we set off from Albany at 6:00 a.m. on Friday morning, arriving at Adirondack Loj shortly after 8:30.
Our first stop was Marcy Dam, where we had to remove our skis to cross the dam itself, which by now was clear of snow.
At Marcy Dam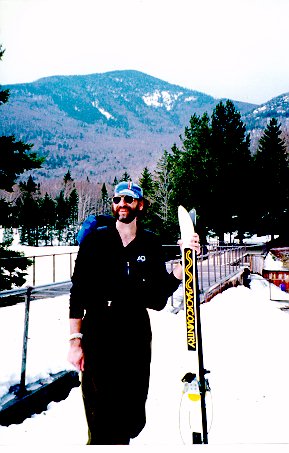 Once past Marcy Dam, the snow cover was consistently deep, from at least 18" to -- in some places -- three to four feet. The warm temperatures made for a warm ascent.
Marcus just above
Phelps Brook
About 45 minutes past Indian Falls we stopped for lunch, probably around 4500'. Naturally, appropriate beverages were on hand for rehydration.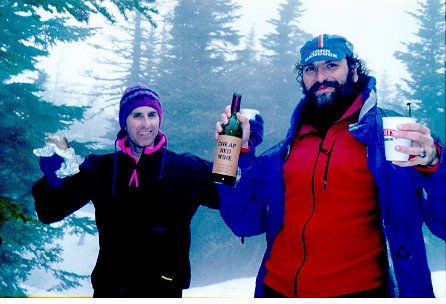 Lunch with Tom
At 3:00 p.m. we found ourselves just below the summit. Visibility was very poor, with the cairns marking the trail over the summit under the deep snow at this point.
Mt. Marcy, up close and personal:
skins off, heading down from about the 5300' level
The runs out were uneventful but not the greatest skiing of the year. The steep runs above Indian Falls and again above Phelps Brook were more exercises in trying to stay slow than long, graceful teles. Skiing out found much higher water levels, especially at Phelps Brook, where our snow-bridge of the morning was completely gone, replaced by six inches of rushing water, and, in the evening twilight from Marcy Dam to the lodge, we also found bare spots and a generally deteriorating trail. Nevertheless, a successful mountain-top visit in the snow of a warm early spring day.