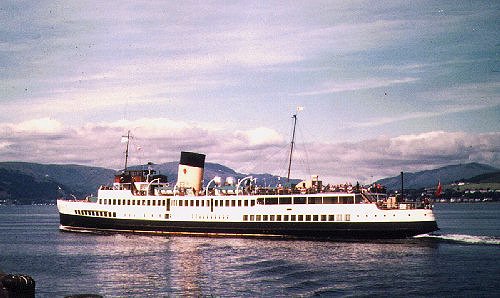 Turbine Steamer Queen Mary II. Built by Denny's yard in 1933, she was originally called Queen Mary. When the liner Queen Mary was launched in 1935, she gave up her name as a gesture of goodwill, becoming Queen Mary II. Powered by Steam Turbines. She started off with two funnels, but this was changed to one 'modern' one in 1957.
A beautiful elegant craft.
Here she is, silently gliding over an unusually calm Clyde, off Gourock.
For those of you who have never travelled on a vessel powered by a steam turbine, it is difficult to conceive how quiet, how free from vibration she was. I remember standing on her deck, watching Gourock pier slip away, and reflecting on Einstein's thought experiment about relative motion. There was nothing to indicate that we were the ones moving.