Christmas Greetings
from Doug and Pat Urquhart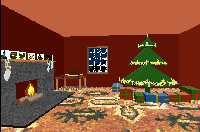 To enter our Virtual Christmas world, click on the picture above.
But please wait for this page to be fully loaded before you do.
---
We're pre-loading the music used in the Virtual World, to avoid a technical problem. Please be patient (and anyway, it won't take nearly as long as loading the Virtual World.
---
Once you are ready to go, why not start one of these carols, to listen to while the Virtual World loads.




The background music is "God rest ye, merry gentlemen".
---

You're welcome to visit our Home Page while you're here. How about a glass of sherry.