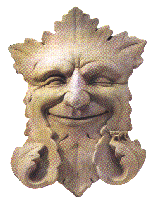 This is me (on the left).

The flower is a real one - Hibiscus (Rose Mallow). I've been growing them in the garden for several years. An easy perennial which comes in all colors from a white to pale pink to a deep red. Flowers (as you can see) are quite large.

The smiling face on the right belongs to the Green Man. To find out more, go to your favorite search engine and look for all references to 'Green Man'. You'll find him in the most unlikely places, from English pub signs, via Robin Hood to The Wind in the Willows.